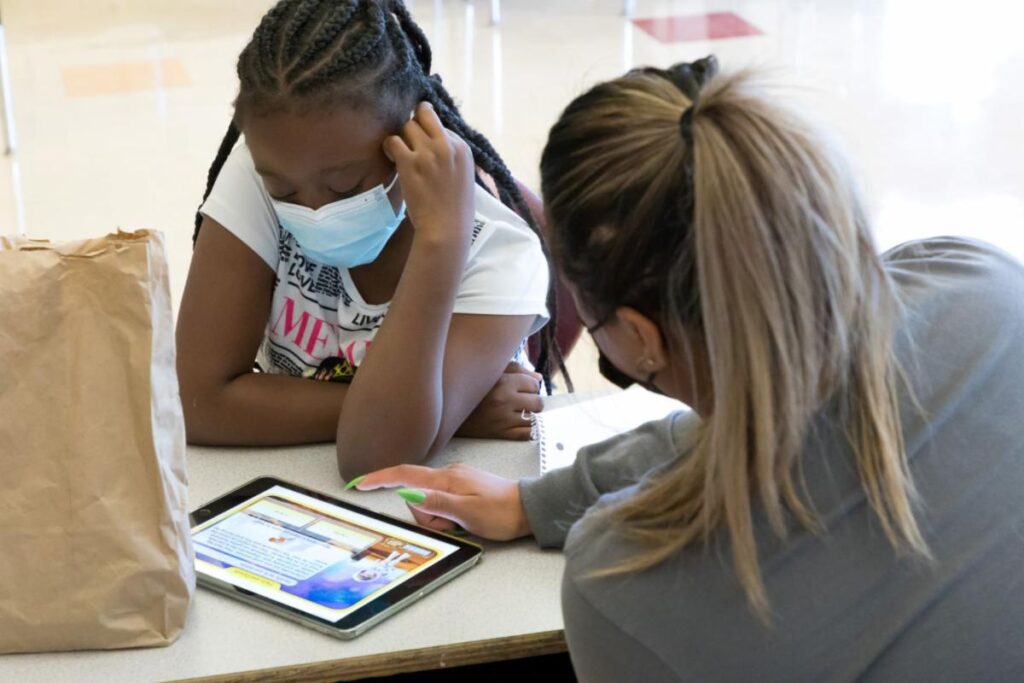 On March 29, 2023, I had the opportunity to visit students at EnCompass Academy, who are learning how to read in their after school program. Our organization, Right Path to Learning, sponsors Sylvan Learning literacy training for 18 second and third graders. As a Right Path to Learning board member and a veteran elementary school teacher, I was eager to see the Sylvan Learning Program in action.
The Oakland school is located on 81st Avenue adjacent to a branch of the Oakland Public Library. Arriving on campus, I was welcomed by the after school community manager, Raul Alcantar. Walking through the campus, I was impressed by the large, well-lit classrooms, outdoor garden and many learning spaces. 
Upon entering the classroom where the Sylvan Learning program takes place, I noticed two groups of students, each with their own teacher. Over the course of the hour lesson, both groups had active one-on-one instruction. Their instruction included phonics lessons, learning strategies for "sounding out" words," reading texts aloud, and answering comprehension questions about stories. The teachers taught the children by
asking and answering questions, playing reading games, and giving direct instruction. Students were engaged, relaxed and learning.
At the conclusion of my visit, I walked away feeling proud of the partnerships between EnCompass Academy, the Sylvan Learning Program and Right Path to Learning. EnCompass students are receiving direct, individual reading instruction with lots of teacher interaction. The teachers are experienced, enjoy working with the students, and most important of all are teaching the children to read.